Deep-learning OCR (Optical Character Recognition) module
In this installment of blog series, we will continue with the introduction of PEKAT VISION modules as they were presented at the Vision trade fair this autumn. Today we will briefly look at the Optical Character Recognition module, here used in conjunction with a 3D scanner.
Our OCR module recognizes and reads – extracts – alphanumerical and other characters, symbols, or string of text from a variety of surfaces. It works well with images from a 3D scanner as well as images from standard industrial 2D cameras. The selection of a particular hardware is dependent on the nature of both, the characters as well as the background. In other words, using the correct hardware, PEKAT VISION can extract and read flat or embossed characters from a wide variety of materials even when these characters are barely visible with the human eye.
It is often used in packaging inspection across industries, in the electronics and automotive industries to read stamped part numbers, serial numbers, batch information, or DOT and manufacturer identification number on a tire sidewall for tracking and verification purposes.
The last example served us as an inspiration for our next product demo. Using conventional 2D images to read molded characters is often difficult due to the low contrast between the read characters and the background, as is the case of a tire. 3D imaging is therefore a better choice. However, it is not without its own challenges. For example, rubber absorbs a large part of the emitted laser light, making higher demands on the 3D scanner used.
For this reason, we opted for the PhoXi 3D Scanner from our long-time partner Photoneo. PhoXi 3D scanner is ideal for scanning rough surface objects such as wood and rubber, objects with matte finish, such as sandblasted aluminum, cast iron, or molded un-polished plastic materials. Using PEKAT VISION with PhoXi 3D Scanner we achieved 100% correct reading of even the smallest characters on the tire.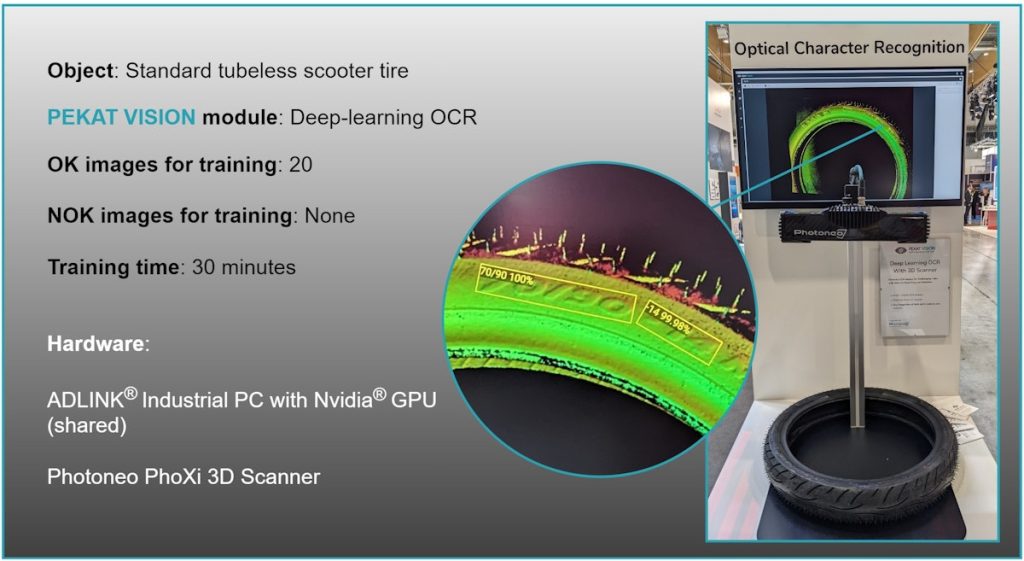 You can watch a video on how to easily connect Photoneo 3D PhoXi scanner and PEKAT VISION on our YouTube channel here.
The OCR module is often complemented with our deep-learning OCV module – optical character verification module – and can be used for identifying products past "best before" or "use by" dates, product sorting, tracking and much more. We will look at more features in one of our next blog posts.
If you would like to check whether PEKAT VISION deep-learning OCR and OCV module is suitable for your particular need, please, contact us or request a free demo or feasibility study. We will be happy assist you.
NVIDIA is a registered trademark of NVIDIA Corporation. ADLINK is a registered trademark of ADLink Technology Inc.